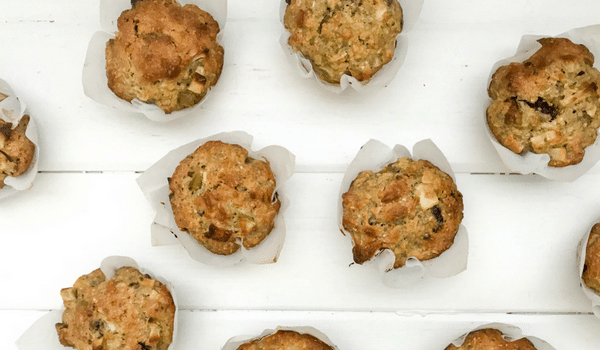 Serves: 12 | Prep time: 15 minutes | Cook time: 30 minutes
Ingredients
2 1/2 cups wholemeal self raising flour
1/4 cup caster sugar
1 tsp cinnamon, ground
3/4 cup fresh dates, pitted and chopped
1 1/2 cups Sunsol muesli
1/2 cup Extra Virgin Olive Oil
3/4 cup milk
2 eggs
2 tsp vanilla extract
2 green apples, finely diced
Method
Preheat oven to 180º Celsius and line muffin tin with baking paper or muffin cases.
Combine flour, sugar, cinnamon, date, sultanas and muesli in a large bowl.
Add the oil, milk, eggs, vanilla and apple and mix until just combined.
Divide the mixture between the 12 lined muffin tins.
Bake in the oven for 30 minutes or until golden brown and skewer comes out clean.
Serve muffins with a dollop of greek yoghurt.