Chocolate & Date Oat Slice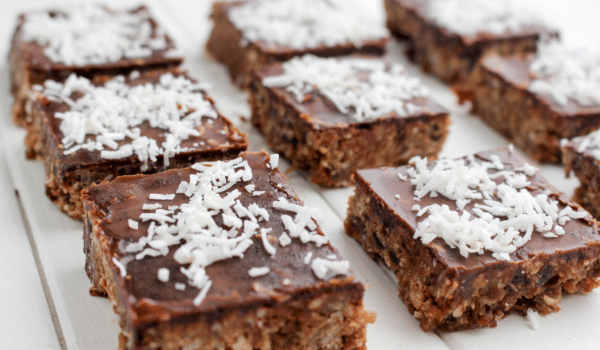 Makes: 20 squares | Prep time: 20 minutes | Cook time: 15 minutes
Ingredients
1 cup Sunsol Oats

1 ½  cup wholemeal SR flour

1 cup brown rice puffs

¾  cup dates, blitzed

¼ cup cacao powder

¼ cup peanut butter

¾ cup coconut oil

¾ cup desiccated coconut

¼ cup honey

1 tsp vanilla essence

2 tablespoons water
Chocolate topping
¼ cup coconut oil, melted

½ cup raw cacao powder

1 pinch salt

1 teaspoon honey or rice malt syrup
Methods
1. Preheat oven to 180 degrees Celsius. Line a small baking tray with baking paper.
2. Combine all ingredients (except topping ingredients) in a large bowl and mix well to combine. Note: you may need to add additional water or oil if the mixture seems too dry.
3. Press mixture into baking tray. Transfer tray to oven and cook for 15 mins. Remove tray form oven and allow to cool.
4. To make chocolate topping, combine coconut oil, cacao powder, salt and honey to a saucepan and heat over a medium heat for 1 to 2 minutes, stirring continuously.
5. Pour chocolate topping over the top of the slice and then transfer to the fridge or freezer to set.
—
We love Sunsol Oats as they are 100% Australian grown wholegrain oats.
For more treat recipes, click here.