Warming Chicken & Corn Soup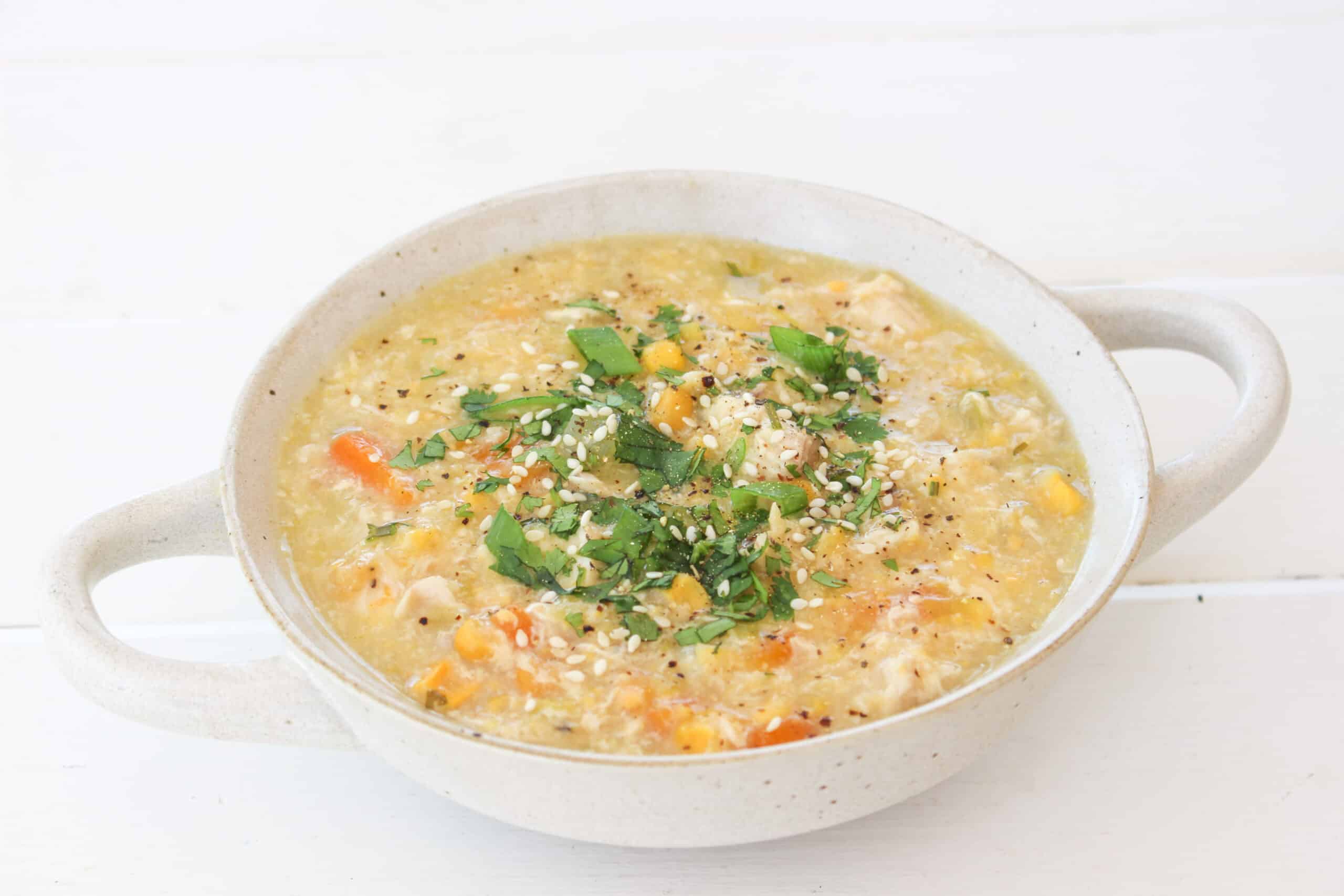 Serves: 4 | Prep time: 10 minutes | Cook time: 30 minutes
Ingredients
1 tbsp

extra virgin olive oil

3 garlic cloves, crushed

1 leek, finely sliced

1 carrot, finely diced

2 sticks celery, finely diced

400g chicken breasts fillets

1L salt reduced chicken stock 

1cm piece fresh ginger, grated

3 spring onions, thinly sliced with the white and green parts divided

1 x 200g can whole kernel corn

1 x 400g can creamed corn

2 tbsp cornstarch

3 eggs, whisked

1 tsp sesame oil

Salt and pepper, to season
Methods
Heat a drizzle of olive oil in a large pot and add garlic, leek, carrot and celery. Stir for 2-3 minutes.

Add in the majority of the stock (leave 1 cup aside), chicken, ginger, the white parts of the spring onions. Brown chicken for 2-3 minutes.

Add in whole kernel corn and creamed corn and mix to combine. Bring mixture to a simmer, then reduce heat and cover for 15-20 minutes, or until the chicken is cooked.

Remove chicken from the pot and use two forks to gently shred the chicken. Then return the shredded chicken back to the pot.

In a separate bowl, whisk together the remaining 1 cup stock and cornstarch. Stir the mixture into the soup and cook for 1 minute, or until the soup has thickened.

Using a spoon, begin to swirl the soup slowly in a continuous motion. While you are still swirling the soup, drizzle the whisked eggs into the soup in a steady stream. The hot broth will instantly cook the eggs, forming egg ribbons.

Add in the sesame oil, and stir to combine. Then taste the soup, and season with salt and pepper.

Serve warm, sprinkled with the remaining green parts of the green onions.