Supercharged Chicken, Barley & Kale Soup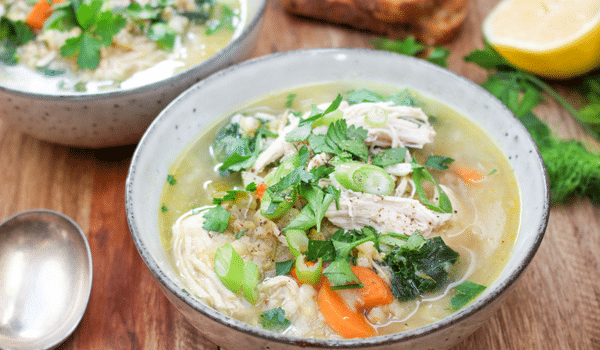 Serves: 5-6 | Prep time: 15 minutes | Cook time: 40 minutes
Ingredients
1 tablespoon extra virgin olive oil
1 brown onion, diced
2 garlic cloves, crushed
1 cm piece of fresh ginger, grated
1 leek, finely chopped
1 fennel, finely chopped
2 carrots, finely chopped
3 celery stalks, finely chopped
500g chicken breast
5L water
2 cubes of reduced salt chicken or vegetable stock
2 fresh thyme sprigs
2 bay leaves
2 shallots
1 teaspoon peppercorns
¾ cup pearl barley
3 cups kale, chopped
¼ bunch of fresh parsley, to serve
Wholegrain bread, to serve
Method
Heat extra virgin olive oil in a large pot over medium heat. Add the onion, garlic, ginger, leek, fennel, carrots, celery, stirring for 2- 3 minutes, until tender.
Add chicken to the pot, stirring for 4 – 5 , minutes until the chicken is opaque all over.
Add the water and stock cubes, thyme, bay leaves, 1 shallot, peppercorns and bring to the boil. Leave to cook for 12-15 minutes.
Add the barley to the pot and then cover, reduce the heat and leave to simmer until the barley is tender and chicken is cooked through (12-15 minutes). Using a fork, shred the chicken in the soup.
Add kale and cook for 5 minutes, or until wilted.
Garnish the soup with shallots and fresh parsley and serve with a slice of wholegrain bread.