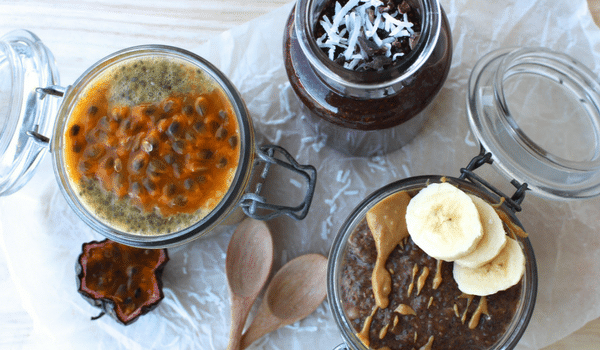 Prep time: 5 minutes | Chill time: 6 hours | Makes 1 large pudding
Ingredients – Mango and Passionfruit Chia Pudding
¼ cup chia seeds
1 cup milk of choice
½ tsp vanilla essence
1 cup frozen mango, thawed and blended
Pulp of 2 passionfruit
Ingredients – Peanut Butter and Banana Chia Pudding
1 cup skim milk
½ tsp vanilla essence
1 ripe banana, mashed
¼ cup chia seeds
1 tbs natural peanut butter, melted
1 tsp cinnamon
Ingredients – Choc Chia Pudding
¼ cup chia seeds
1 cup skim milk
½ tsp vanilla essence
1 tbs cacao
½ tbs honey
For more healthy and delicious recipes, click here.
Method
1. In a mixing bowl, whisk together all ingredients for the variation you would like to make. Set aside for 10 minutes.
2. After 10 minutes, whisk ingredients again and pour into a jar. Place in the refrigerator to set.
3. Serve cold. Garnish with additional ingredients like fresh passion fruit or banana, extra peanut butter, cacao nibs and coconut.