BBQ King Prawn & Cherry Tomato Salad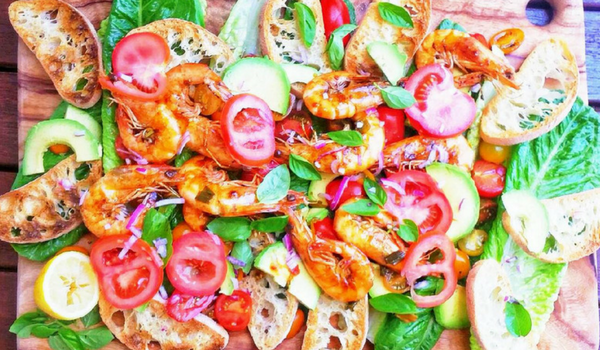 Serves: 4 | Prep time: 10 mins | Cooking time: 12 mins
Ingredients
4 cloves of garlic, (3 finely chopped, 1 whole)

4 shallots, chopped

7 pieces cos lettuce

1 fresh green or red chilli, deseeded, chopped finely

½ bunch fresh basil, finely chopped

12 large unpeeled raw Australian banana prawns

1 lemon

Extra virgin olive oil

60 mL sweet chilli sauce

2 punnets mixed-coloured cherry tomatoes, halved

1 ripe avocado

1 lime

8 thin slices focaccia bread

Tablespoon balsamic vinegar

100g ricotta
Method
1. Heat pan over medium heat, add a splash of olive oil, 3 of the chopped garlic cloves, spring onions and stir for a few seconds. Add chilli and basil stalks and stir for 2 minutes. Add chilli sauce and 2 tablespoons water and continue to stir for 5-10 minutes.
2. Heat oven to 160°C and toast focaccia slices until lightly browned. Rub toasted focaccia with remaining garlic clove, and keep in oven until needed.
3. Put halved cherry tomatoes in a bowl and drizzle with some balsamic vinegar and olive oil. Arrange cos lettuce leaves out on a large serving platter and pour tomatoes over leaves. Add finely sliced avocados and squeeze lime juice over the top to stop avocado browning and to add some flavour.
4. Coat prawns in a little olive oil and cook up on BBQ, grill for around 4 minutes on each side (until crisp looking). Grill lemon on BBQ next to prawns.
5. Transfer prawns to pan and mix together with sauce. Then place prawns on top of salad and drizzle extra sauce evenly over salad. Add toasted focaccia around the outside of plate. Squeeze grilled lemon over the top. Drizzle with some olive oil and balsamic vinegar and toss basil leaves over the top. Evenly sprinkle the salad with the ricotta. Add pepper to taste.
—
For more healthy and delicious recipes, click here.