Basil Bruschetta with Avocado & Feta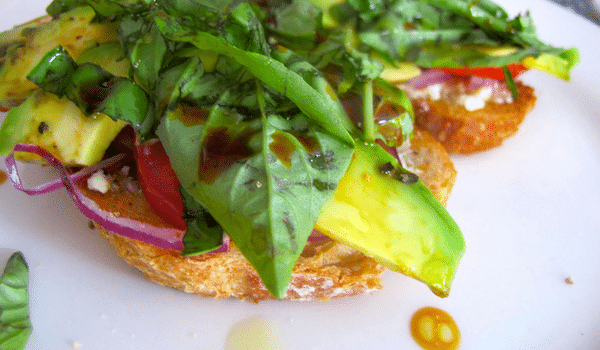 Serves: 2 | Prep time: 10 minutes
Ingredients
Handful of basil
Marinated fetta
1 x avocado
1/2 spanish onion
1 x roma tomato
4 x pieces Sourdough toast
Balsamic vinegar
Extra virgin olive oil
Salt and pepper to taste
Method
1. Slice tomato, avocado and finely slice spanish onion. Roughly chop basil leaves.
2. Layer avocado, tomato, spanish onion and basil on toast. Crumble some marinated feta over the top (depending on the type of feta, it may be easier to put it on first) and then drizzle some balsamic vinegar and olive oil over the top. Season with salt and pepper to taste.
—
For more healthy and delicious recipes, click here.