Almond Butter Snickers Bars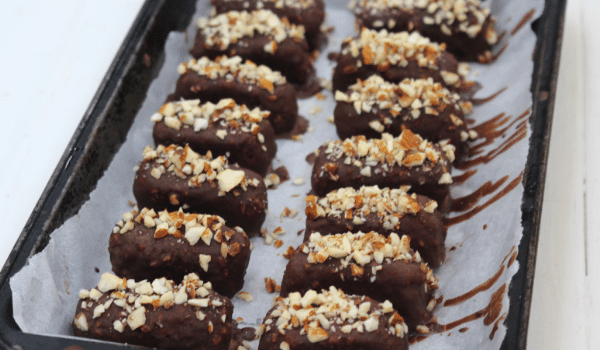 Makes: 15 bliss balls | Prep time: 30 mins
Ingredients
1 cup dates, pitted, soaked
½ cup natural almond butter
1 teaspoon vanilla extract
2 tsp raw cacao powder
¼ cup shredded coconut
½ cup brown rice puffs
1 cup almonds, roughly chopped
1 tablespoon honey
1 tablespoon coconut oil, melted
Chocolate coating
¼ cup coconut oil, melted
¼ cup raw cacao powder
1 tablespoon honey or rice malt syrup
Pinch sea salt
Almonds, finely crushed
1 skewer
Method
1.Place dates, almond butter, vanilla extract and raw cacao powder in food processor and blitz for 1 to 2 minutes.
2. Add shredded coconut, rice puffs and almonds, honey and coconut oil to the food processor and blitz for a further 1 to 2 minutes. (Note: you may need to add 1 – 2 tablespoons of hot water to make the mixture more of a paste).
3. Using a tablespoon of mixture, roll into small balls and place on a lined baking tray. Place in fridge to set for 1 hour.
4. To make the chocolate sauce whisk together coconut oil, raw cacao powder, honey and sea salt until smooth.
5. Remove balls from fridge and one at a time, insert skewer into the ball and then hold onto the skewer and dip the ball into the chocolate mixture. Using fingers, slide the ball off the skewer and place onto a tray lined with baking paper. Repeat this process until all balls are covered. Place the balls back into the fridge for 15 minutes. Remove from the freezer and repeat the dipping process again so each ball has two coatings of chocolate. Sprinkle balls with finely crushed almonds. Place balls back into fridge to set for at least 20 minutes.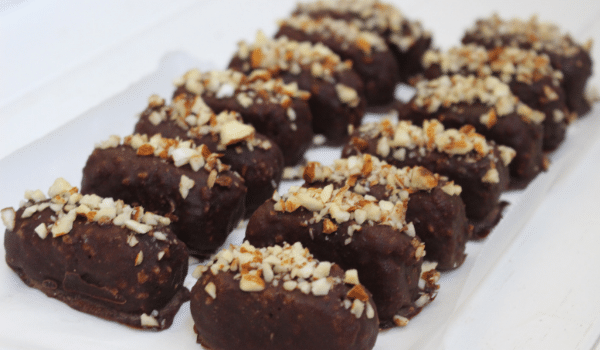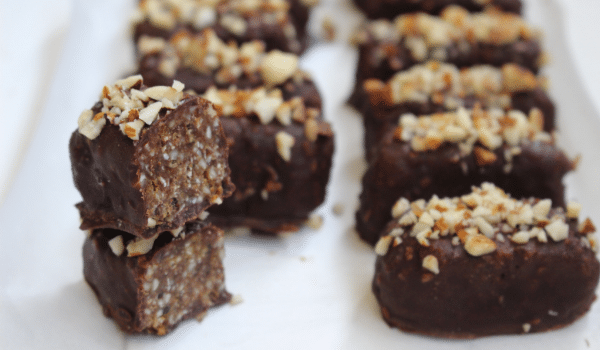 —
For more delicious treat recipes, click here.
For more information on the health benefits of almonds, click here.