Vietnamese Flaked Salmon with Noodles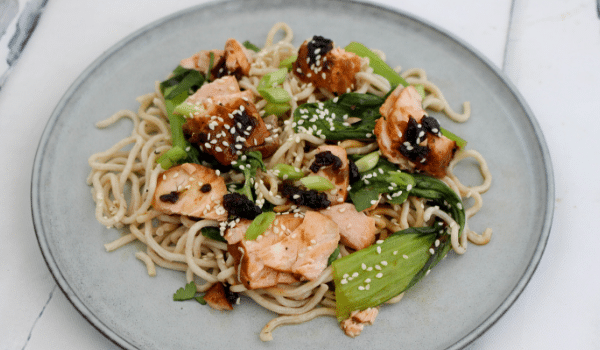 Serves: 2 | Prep time: 5 minutes | Cook time: 15 minutes
Ingredients
1 tbsp sesame oil

3 tbsp fish sauce
2 tbsp soy sauce, salt reduced

½

 tsp grated fresh ginger
Finely grated zest of 1 lime
Juice of

½

lime

½

 tsp freshly ground black pepper
1 spring onion, chopped
2 salmon fillets
150g wholegrain noodles
Fresh coriander, to serve
Sesame seeds, to serve
Lime wedges, to serve
Spring onions to serve
Methods
1.  In a small bowl, add sesame oil, fish sauce, soy sauce, ginger, lime zest, lime juice and pepper.
2. Set the pot to browning and add sauce and 1 chopped spring onion. Bring to a simmer and cook for 5 minutes, then turn off the cooker.
3. Place the salmon into the pot, with the skin side facing up. Spoon some of the sauce over the fish. Pressure cook for 5 minutes.
4. Cook noodles according to packet instructions.
5. To cook bok choy, place it in a steamer basket and place the basket over (not in) simmering water. Steam until the base of the bok choy is just tender when pierced with the tip of a knife, about 6 minutes. (You could also steam it in the microwave).
6. Switch cooker back to browning and cook salmon (skin side down) for 1-2 minutes, until salmon is cooked to your liking.
7. Remove salmon from the pot and continue cooking sauce until reduced.
8. Divide noodles between bowls and top with salmon and bok choy. Option to flake salmon through noodles (as we've done in image above). Spoon sauce over salmon and garnish with fresh coriander, sesame seeds, spring onions and a lime wedge.
Notes
We used the Tefal Cook4Me+ to create this recipe however you could use another pressure cooker or cook on the stove.
Cook4Me+ includes over 150+ recipes, plus more on the app available for iPhone and Android. The machine is great for cooks of all skill levels and features guided on-screen instructions, so you know when to add ingredients and when to close the lid and let the machine take care of the rest.
No calculating cooking times or temperatures – Cook4Me+ sets that for you, it even release the steam at the end of cooking and goes straight to 'Keep Warm' mode without you having to lift a finger! It really is a game changer when it comes to meal prep and dinner time – find out more here