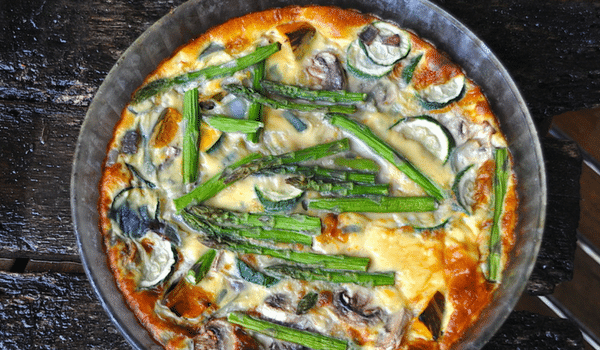 Serves: 4-6 | Prep Time: 50 minutes  | Cooking time: 35-40 minutes
For those with allergies or intolerances, this recipe is both gluten and dairy free
Ingredients
1 tsp Extra Virgin Olive Oil
1 brown onion, diced
1 large zucchini, chopped
200g button mushrooms, chopped
1 medium sweet potato (or 1/4 of medium pumpkin), chopped
1 bunch of asparagus, chopped
6 free range eggs
1 cup almond milk
Method
1. Preheat the oven to 200°C.
2. Place chopped sweet potato (or pumpkin) onto a baking tray, drizzle with a little olive oil, season with salt and pepper and roast for approx. 30 minutes.
3. Heat olive oil in a pan over medium heat and cook the onion for 2-3 minutes, stirring until soft. Add asparagus, zucchini and mushrooms stir until tender.
4. Whisk eggs and almond milk together in a bowl until frothy.
5. In a baking tray add all the ingredients and pour the egg mixture over the top.
6. Cook in the oven for approximately 35-40 minutes.
 —
 For more healthy and delicious recipes, click here.