Tofu & Greens Noodle Stir-Fry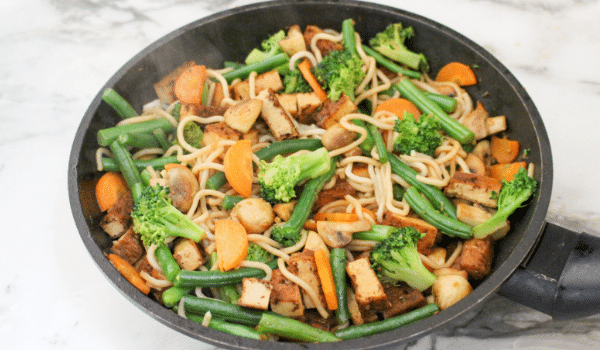 Serves: 4 | Prep time: 10 minutes | Cook time: 20 minutes
Ingredients:
1 tablespoon extra virgin olive oil
1 brown onion, diced
2 garlic cloves, crushed
1 carrot, chopped
2 cups mushrooms, chopped
400g marinated firm tofu, cut into cubes
200g green beans
1 long red chilli, deseeded and thinly sliced 

1/2 head of broccoli, chopped into florets
2 tablespoons soy sauce
2 teaspoons sesame oil
1 tablespoon sweet chilli sauce
1 packet egg noodles
Sesame seeds (to serve)
Method:
1. Heat olive oil in a pan over medium heat. Add garlic and onion and sauté for a few minutes until onion starts to soften.
2. Add carrots and mushrooms to the pan and stir for 3 – 4 minutes.
3. Add green beans, chilli, broccoli, tofu, soy sauce, sesame oil and sweet chilli sauce and stir for 3 – 4 minutes.
4. Meanwhile, cook the noodles according to packet instructions.
5. Once the noodles are cooked, transfer to pan and mix together with vegetables.
6. To serve sprinkle with some sesame seeds and enjoy!
Notes:
For more dinner ideas, click here.
Option to serve with brown rice instead of noodles.
We recommend cooking extra and enjoying for lunch the next day!