Quinoa Stuffed Vine Leaves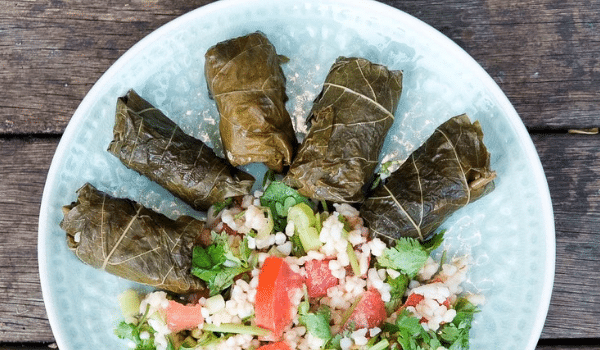 Makes: 24 vine leaves | Prep time: 45 minutes | Cook time: 40 minutes
Ingredients
½ bunch flat-leaf parsley, finely chopped
¼ bunch mint, finely chopped
1 onion, finely chopped
2 vine-ripened tomatoes, finely chopped
1 long green chilli, seeded, finely chopped
1 tablespoon currants
1 tablespoon pine nuts, roasted
½ teaspoon ground allspice
2 lemons, juiced
½ cup quinoa, uncooked
200g vine leaves
Extra virgin olive oil, to serve
Method
To make filling, combine all the ingredients except vine leaves in a large bowl (note: you use uncooked quinoa). Season with salt and pepper.
Place a vine leaf, smooth-side down, on a bench top and place 2 teaspoons of filling in the centre along the base of the leaf. Fold in both sides and it roll up tightly to enclose filling. Repeat this process with the remaining leaves and stuffing to make around 24 stuffed vine leaves. Keep the remaining liquid from the filling in a bowl.
Tightly pack the stuffed vine leaves in a slow cooker (option to also put them in a wide frying pan). Strain extra liquid from the filling over the stuffed vine leaves and then weigh down the stuffed leaves with a pyrex dish – this helps to prevent the leaves from unravelling and keeping their shape. (If doing this in a wide frying pan, option to weigh down the leaves with a plate). Pour enough water around the plate or pyrex dish to just cover vine leaves then cook over low heat for 40 minutes or until quinoa is tender. Cool.
To serve, serve drizzle with oil and a squeeze of lemon and enjoy!
—
If you love this recipe then you should checkout our Nutrition Reboot Program for loads more delicious and healthy recipes. The program includes:
8 week meal plan
Over 55 delicious and healthy recipes
8 weeks of nutrition content to help you lose weight, boost energy and feel your best
30+ nutritional videos
Access to private Facebook community
Ongoing support and motivation
Live Q&A
24/7 access to a dietitian
Downloadable cheatsheet
All available online