Pineapple & Coconut Slice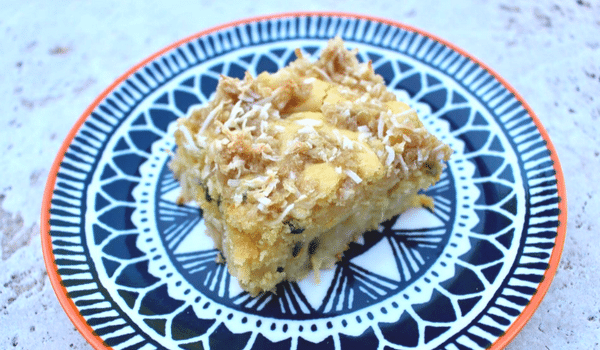 Serves: 12 | Prep time: 15 mins | Cook time: 30 mins
Ingredients
1/4 cup reduced-fat spread
1/2 cup pure maple syrup
2 eggs
1 1/2 cups gluten free self-raising flour (sifted)
1/4 cup (60ml) skim milk
1 1/2 cups 1cm diced pineapple
4 passionfruit, halved
Topping:
1/3 cup quinoa flakes
1/4 cup maple syrup
1/3 cup shredded coconut
Method
1. Preheat oven to 190°C. Lightly spray a 23cm x 23cm cake tin with oil. Line with baking paper.
2. Place spread and 1/2 cup maple syrup into a mixing bowl. Using an electric beater, beat until fluffy. Add eggs one at a time, beating well to combine. Fold through flour and milk. Gently add diced pineapple and passionfruit pulp. Spoon into prepared tin.
3. Make Crunchy topping: Combine quinoa flakes, maple syrup and coconut. Sprinkle evenly over slice.
4. Bake in oven for 25–30 minutes or until golden and a skewer comes out clean when inserted into center of slice.
5. Cool in tin and then cut into 12 pieces to serve.
—
For more healthy and delicious treat recipes, click here.
—
This recipe is by Melissa Meier, who is an intern at The Biting Truth and is currently studying her Masters in Nutrition and Dietetics at Sydney University.