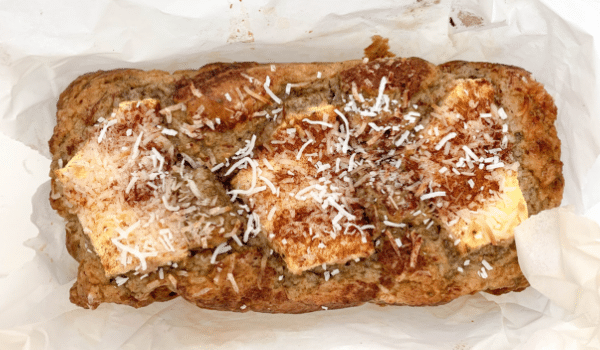 Serves: 10 | Prep time: 15 minutes | Cook time: 50 minutes
Ingredients
2 cups wholemeal flour
½ cup desiccated coconut
1 teaspoon ground cinnamon
2 bananas, mashed
1 teaspoon vanilla essence
1 cup pineapple, finely diced or blitzed in food processor
¾ cup milk
2 eggs, lightly beaten
¼ cup honey
⅓ cup extra virgin olive oil
Desiccated coconut, to decorate
Ground cinnamon, to decorate
Pineapple pieces, to decorate
Method
Preheat oven to 180°C fan forced. Line a medium size loaf tin with baking paper.
Combine flour, coconut and cinnamon in a bowl.
In a separate bowl, combine mashed bananas, vanilla essence, pineapple, milk, eggs, honey and extra virgin olive oil.
Add the pineapple mixture to the dry ingredients and gently mix to just combine. Note: be careful to not overmix.
Pour the batter into the loaf tin, top with the slices of pineapple, sprinkle of cinnamon and desiccated coconut.
Bake in the oven for 50-60 minutes, or until cooked through.
Notes:
This recipe was created in partnership with Australian pineapples.
We love mixing some walnuts or almonds through the loaf mixture for a yummy brunch!
For more treat recipes, click here.