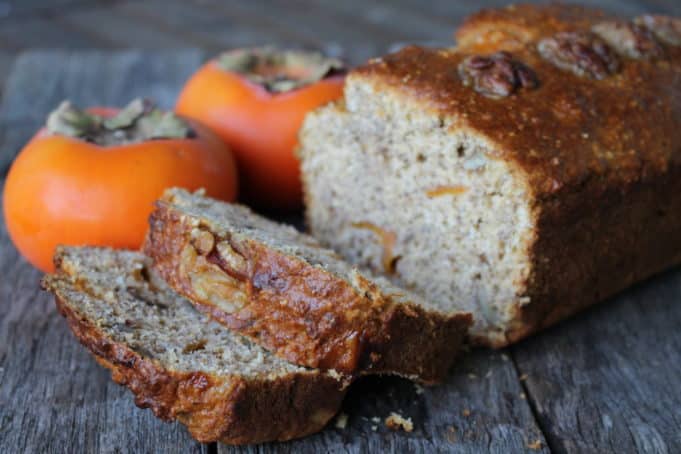 Serves: 12-15 | Prep time: 15 mins | Cook time: 35 mins
Ingredients
2 cups wholemeal self raising flour

1 tbsp of rice malt syrup

2 persimmons, mashed

1 tsp cinnamon

1/2 tsp vanilla

1/2 cup LSA

3 eggs

1/2 cup natural low fat yoghurt

1 tbsp coconut oil

1/2 cup crushed walnuts + a couple extra to top the loaf with

Ricotta cheese or nut spread, to serve
Method
1.

 Set the oven to 180 degrees celsius.
2.

 Light spray a loaf tin with olive oil spray and line with baking paper.
3. Add all  the dry ingredients to a bowl and combine.
4.

Add in the wet ingredients and mix until just combined.
5.

Spoon ingredients into loaf tin and sprinkle remaining walnuts on top.
6.

Bake for 35 minutes or until golden brown and cooked through.
7.

Serve with ricotta cheese or nut spread if you like.