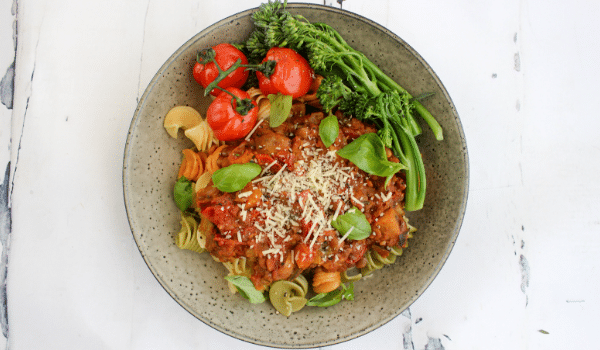 Serves: 4 | Prep time: 15 minutes | Cook time: 40 minutes
Ingredients
2 tbsp extra virgin olive oil
1 brown onion, finely diced
3 cloves garlic, crushed
2 carrots, finely diced
1 cup mushrooms, chopped
1 zucchini, finely diced
1 bay leaf
2 tsp dried oregano
1 tsp chilli flakes
1 tsp dried thyme
2 tbsp tomato paste, reduced salt
1 x 400g tinned cherry tomatoes
1 cup dried lentils, rinsed
1 tbsp balsamic vinegar
3/4 cup water
2 cups cooked pasta
Parmesan cheese, to serve
Fresh basil, chopped, to serve
Broccolini, to serve
Tomatoes, to serve
Pepper, to taste
Methods
1.  Turn on browning function and heat the oil. Add the onion, garlic and carrots and season with pepper. Keep the lid off and sauté for 5 minutes, or until the onions are clear and the vegetables are soft.
2. Add the mushrooms and zucchini. Cook for 4 to 5 minutes.
3. Add the bay leaf, oregano, chilli flakes and thyme.
4. Then add the tomato paste, tomatoes, lentils, balsamic vinegar and water and stir to incorporate. Close the lid and pressure cook for 20 minutes.
5. Meanwhile cook pasta according to packet instructions.
6. Serve Lentil Bolognese over pasta and top with parmesan cheese and fresh basil and a side of broccolini and tomatoes.
Notes:
We cooked this recipe using the tefal Cook4me+ however you could use any pressure cooker or cook this on the stove top.
Cook4Me+ includes over 150+ recipes, plus more on the app available for iPhone and Android. The machine is great for cooks of all skill levels and features guided on-screen instructions, so you know when to add ingredients and when to close the lid and let the machine take care of the rest.
No calculating cooking times or temperatures – Cook4Me+ sets that for you, it even release the steam at the end of cooking and goes straight to 'Keep Warm' mode without you having to lift a finger! It really is a game changer when it comes to meal prep and dinner time – find out more here.
Fore more dinner recipes, click here.