Higher Protein Carrot Cake Muffins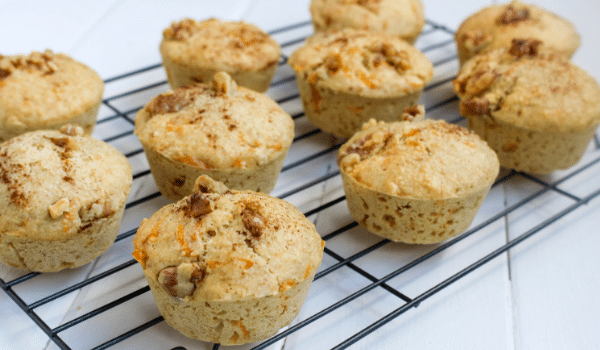 Serves: 12 | Prep time: 10 minutes | Cook time: 30-40 minutes
Ingredients
2 cups of wholemeal self raising flour
1 teaspoon cinnamon, ground
1 teaspoon nutmeg, ground
1/2 cup coconut oil, melted
1 teaspoon vanilla extract
1/2 cup honey
1/4 cup plain greek yoghurt
2 eggs, whisked
2 carrots, grated
1/2 cup walnuts, roughly chopped
Method
Preheat oven to 180ºC and lightly grease muffin tins with olive oil.

In a bowl, combine flour, cinnamon and nutmeg.

In a separate bowl combine, coconut oil, vanilla extract, honey, milk, yoghurt, eggs, carrot.

Add the wet ingredients to the flour mix and fold gently to combine.

Pour batter into muffin cases and top with chopped walnuts.

Bake for 30-40 minutes or until an inserted skewer comes out clean.
Notes:
These muffins are high in protein than regular muffins. We recommend enjoying a snack rich in protein in the afternoon to help keep you feeling satisfied and less tempted to reach for refined, nutrient poor snacks.
For more healthy snacks click here.