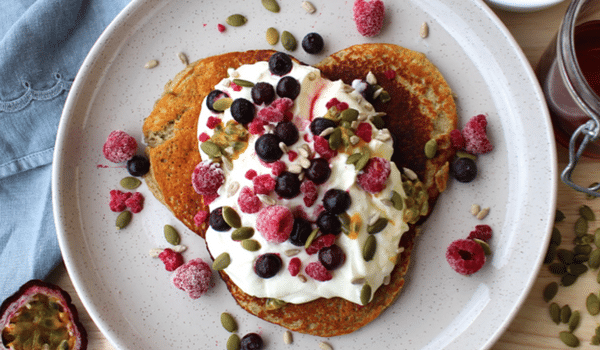 Serves 1 |Prep time 5 minutes | Cook time 10 minutes
Ingredients
Extra virgin olive oil (to spray)
1 ripe banana
2 tablespoons almond meal
1 tablespoon chia seeds
1 egg
½ teaspoon baking powder
Greek yoghurt, fresh fruit and seeds to serve
Method
1. Heat a pan over a medium heat and spray with cooking oil.
2. Add banana, almond meal, chia seeds, egg and baking powder to a blender and blend until smooth.
3. Pour the mixture into the pan to make 3 pancakes.
4. Cook for 3-4 minutes a side, or until golden on each side.
5. Serve with Greek yoghurt, fresh fruit and seeds.
—
For more healthy and delicious recipes, click here.