Classic Roast Tomato Soup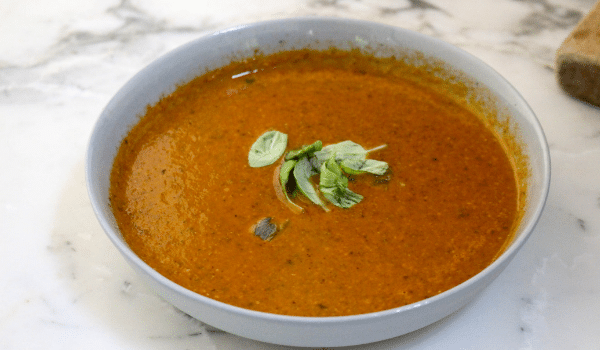 Serves: 4-6 | Prep time: 50 minutes
Ingredients
2kg ripe tomatoes

2 red onions

Extra virgin olive oil

2 tablespoons balsamic vinegar

4 cloves garlic, crushed

1 pinch of dried oregano

1 pinch chilli flakes
1/4 cup pinenuts

1 litre vegetable stock

1/2 bunch fresh basil, roughly chopped

Salt and pepper, to season
Parmesan cheese, to serve
Wholegrain bread, to serve
Method
Preheat oven to 200°C.

De-core tomatoes and chop in half. Roughly chop onions.

Heat oil in a roasting tray over medium-high heat. Layer tomatoes and onion over the tray

and sauté for approximately 3-4 minutes. Turn the tomatoes over and add garlic, pepper, oregano, a drizzle of balsamic vinegar and chilli flakes and cook over high heat for 3-4 minutes. Then transfer to tray oven and roast for 30 minutes. 

Meanwhile, cook pine nuts in a large pot over a medium-low heat for 3 – 4 minutes. Add chopped fresh basil (leave some basil leaves to decorate the soup for serving) and a drizzle of olive oil.
Once the tomatoes have finished roasting, remove from the oven and add to pot. Add vegetable stock and a drizzle of balsamic vinegar and bring to a boil. Simmer for 10 minutes.

Remove pot from pan and blitz soup with hand blender until you achieve desired consistency.

To serve, ladle soup into bowls, and top with basil leaves and some fresh parmesan cheese. Enjoy with a slice of toast!
Notes
For a creamier soup, you could try adding a dollop of cream to this recipe.
Watch our video making this soup!
For more easy dinner ideas, click here.