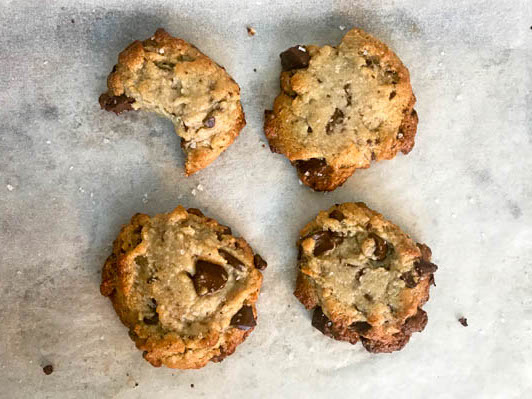 Makes: 15 cookies | Prep time: 10 minutes | Cook time: 10 minutes
Ingredients
1 cup almond meal
¼ teaspoon baking powder
½ cup hulled tahini
¼ cup honey
1 teaspoon vanilla extract
½ cup (75g) chopped dark chocolate or dark chocolate chips
¼ teaspoon sea salt and extra for sprinkling
Method
Preheat oven to 165 degrees celsius and line a large baking tray with baking paper.
Mix wet and dry ingredients in a bowl, then add chocolate and mix again.
Drop teaspoons of the cookie dough onto the baking tray and flatten lightly with a
spoon
Bake for 8-10 mins or until golden but still soft. Keep cookies on the tray for a few
minutes to settle and sprinkle with extra sea salt, then transfer to a rack to cool before serving.
This recipe was developed by Mariam Metwally who is an intern at The Biting Truth and is currently Studying her Masters In Nutrition & Dietetics.