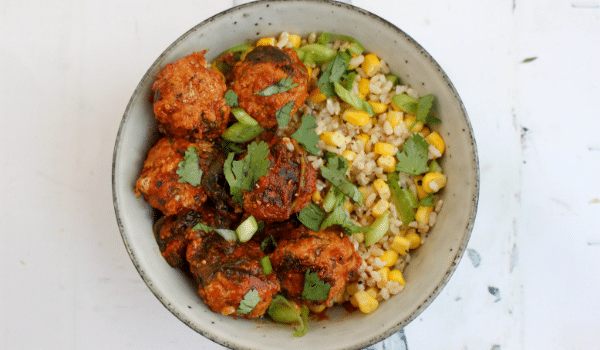 Serves: 4 | Prep time: 10 minutes | Cook time: 35 minutes
Ingredients
500g pork mince

1 bunch fresh coriander, chopped
1 garlic clove, crushed
2 spring onions, chopped
4 tsp chipotle paste
1 egg, lightly whisked

¼

 cup panko breadcrumbs
1 tbsp Extra virgin olive oil
200g tomato passata
100mL boiling water
2 tbsp tomato paste, salt reduced
120g spinach
2 cups brown rice, to serve
420g corn kernels, drained, rinsed
Pepper, to season
Methods
1. In a large bowl, combine pork mince, 1⁄2 bunch chopped coriander, garlic, 1 spring onion, half of the chipotle paste, egg and breadcrumbs and season with pepper. Mix well to combine. Use your hands to form tablespoons of mixture into balls and place on a plate. Set aside.
2. Turn the Cook4Me onto 'browning function'. Add oil to pot and add meatballs for 10 minutes, turning occasionally, until golden on all sides. Remove meatballs and set aside.
3. Leave Cook4Me on 'browning function' and add passata, 100mL boiling water, tomato paste, spinach and remaining chipotle paste and stir for 5 minutes.
4. Add meatballs back to the pot and stir to coat in the sauce. Shut lid and turn on 'Pressure cooking' function and set for 20 minutes.
5. While meatballs are cooking, cook rice separetly according to packet instructions. Once rice is cooked, mix through corn kernels and remaining spring onion.
6. Once pressure cooker is finished, turn Cook4Me off. Serve meatballs with brown rice mixture and top with remaining fresh coriander.
Notes
Cooking methods:

Pressure Cooker: We used the Tefal Cook4Me+ to create this recipe, however, you could use any pressure cooker.
No pressure cooker: you can cook this recipe using a fry pan and pot.

Cook4Me+ includes over 150+ recipes, plus more on the app available for iPhone and Android. The machine is great for cooks of all skill levels and features guided on-screen instructions, so you know when to add ingredients and when to close the lid and let the machine take care of the rest.
No calculating cooking times or temperatures – Cook4Me+ sets that for you, it even release the steam at the end of cooking and goes straight to 'Keep Warm' mode without you having to lift a finger! It really is a game changer when it comes to meal prep and dinner time – find out more here.
For more dinner recipes, click here.