Chicken and Vegetable Pilaf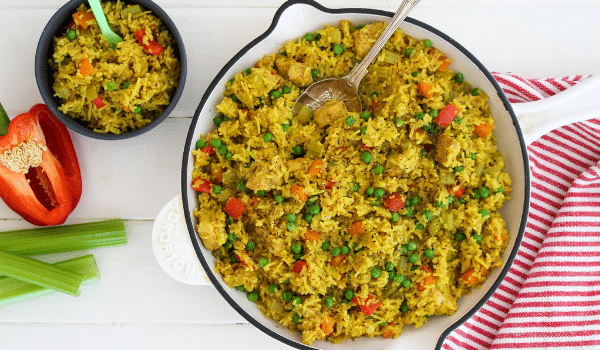 Serves: 4-6 | Prep time: 10 mins | Cook time: 30 mins
Ingredients
1 tbsp extra virgin olive oil
1 brown onion, finely diced
650g chicken breast, chopped into 2cm pieces
1 tsp fresh grated ginger
1 tsp garam masala
1 tsp cinnamon
1 tsp turmeric
2 cups uncooked basmati rice
1L salt reduced chicken stock
1 carrot, diced
3 stalks celery, diced
1 capsicum, diced
1 cup frozen peas
Method
1. Heat a drizzle of olive oil in a large fry pan. Add onion and stir until softened.
2. Add the chicken pieces and fry until the chicken pieces start to brown.
3. Add garam masala, cinnamon and turmeric, carrot, celery and uncooked rice to the pan. Stir for a couple of minutes until rice is yellow.
4. Pour in the stock and add capsicum and peas. Increase heat to high and bring to the boil.
5. Reduce heat to medium-low and then cover the pan with a lid and cook until liquid is absorbed. 
Notes:
This Chicken & Vegetable Pilaf recipe was created for the Only About Children seasonal menu.
Follow us on Instagram for healthy recipes and nutrition tips.
Checkout more dinner recipes here.