Cheesy Vegetable Pizza Scrolls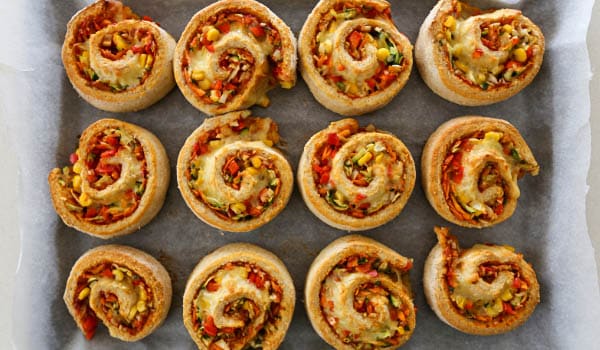 Makes: 12 | Prep time: 15 mins | Cook time: 25 mins
Ingredients
2 cups wholemeal self-raising flour

1 cup plain Greek yoghurt

3 tbsp tomato paste

1 carrot, coarsely grated

1 small zucchini, coarsely grated 

1 small brown onion, finely diced

1 small red capsicum, finely diced

125g tin corn kernels, drained and rinsed

1/2 cup tasty cheese, shredded
Method
Preheat the oven to 180

°

C. Line a baking tray with baking paper.

Mix flour and yoghurt in a bowl, using your hands to form a dough. Turn the contents of the bowl out onto your kitchen bench and knead until the dough comes together into a ball.
Flour your bench and roll the dough out into a 40 x 25 cm rectangle.

Spread the dough with tomato paste, right to the edges.

Sprinkle over the carrot, zucchini, onion, capsicum, corn and cheese.

Roll the dough up tightly, starting from one of the long edges. Trim the ends then cut into 12 slices. 

Place the scrolls on your prepared tray and bake for 25 minutes or until golden-brown. Transfer to a wire rack to cool.
Notes:
For more tasty kids recipes like these Cheesy Vegetable Pizza Scrolls, check out our Lunchbox e-book.
Don't forget to follow us on Instagram for healthy recipes and nutrition tips.
Checkout more kid-friendly recipes here.
This recipe was created and tested by student dietitian, Alexandra Van Winden who is currently completing her dietetic internship with The Biting Truth.