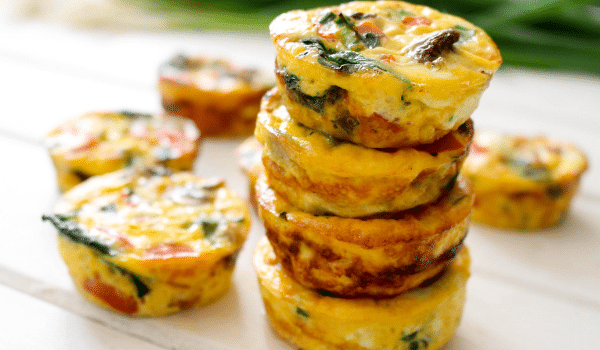 Makes: 10 muffins | Prep: 15 mins | Cook 30 mins
Ingredients
Extra virgin olive oil spray
1 tablespoon extra virgin olive oil
2 cloves garlic, crushed
2 spring onions, sliced
1 cup mushrooms, sliced
½ red capsicum, diced
½ tsp ground cumin
½ tsp ground coriander
Pinch of chilli flakes (optional)
2 cups baby spinach, roughly chopped
6 eggs
½ cup milk of choice
½ cup cheddar cheese, grated
Salt and pepper, to season
Fresh coriander, to season
Method
Preheat oven to 180°C and spray muffin tray with olive oil or line with muffin cases.
Heat olive oil over medium heat and sauté garlic, spring onions, mushroom, capsicum, cumin, ground coriander and spinach for 3 to 4 minutes or until vegetables are soft and fragrant.
In a large bowl, whisk the eggs and milk. Add the sautéed vegetables, cheddar cheese and season with salt and pepper. Stir gently to combine.
Distribute egg mixture into muffin tray. Top with fresh coriander.
Bake in oven for 30 minutes, or until the tops are firm to touch.
—
Notes
A serve of muffins for breakfast is 2 – 3 muffins.

These muffins freeze well.

For more healthy breakfast recipes, click here.

For more delicious and healthy recipes, then check out our Flexitarian Eating Guide. 
To learn more about kids nutrition, click here.