Raspberry & Black Bean Brownies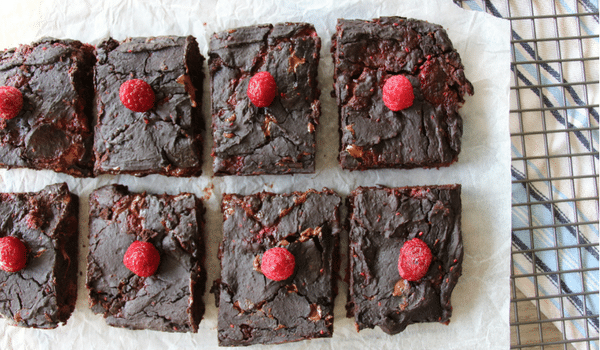 Serves: 8-10 | Prep time: 10 mins | Cook time: 25 mins
Ingredients
1 ½ 400g cans black beans
3 eggs
¼ cup extra virgin olive oil
1 tablespoon vanilla extract
¾ cup cocoa powder
¾ cup brown sugar, sifted
1 teaspoon baking powder
Pinch of salt
100g dark chocolate chips
200g raspberries (if using frozen, thaw and remove moisture with a paper towel)
Method
1. Preheat oven to 180 degrees celsius and line a baking tray.
2. Thoroughly rinse and drain black beans and soak in water for 1 hour.
3. In a blender, combine black beans, eggs, oil and vanilla extract and blend until smooth.
4. In a mixing bowl, combine cocoa powder, sugar, baking powder, salt and chocolate chips.
5. Add blended bean mixture and stir to combine.
6. Fold through raspberries.
7. Pour mixture into a baking tray and cook for 20-25 minutes, or until a skewer inserted into the brownies comes out clean.
—
For more healthy and delicious treat recipes, click here.