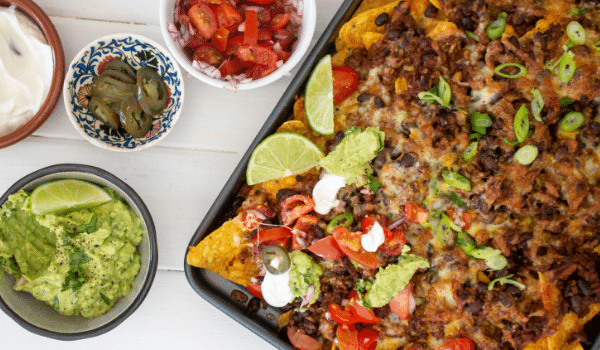 Serves: 5-6 | Prep time: 10 minutes | Cook time: 10 minutes
Ingredients
1 tbsp extra virgin olive oil
1 red onion, diced
3 garlic cloves, minced
1 tsp Chilli powder (leave out if making for kids)
1 tsp Cumin
1 tsp paprika
1 tsp ground coriander
500g lean beef mince
1 x 400g canned black beans, drained and rinsed
1 tbsp Worcestershire sauce
2 tbsp tomato paste
1 packet tortillas chips
1 cup Cheddar cheese
1 cup mozzarella cheese
Plain yoghurt, to serve
Jalapenos, to serve (leave out if making for kids)
Guacamole
1 avocado
¼ bunch coriander
½ lime, juiced
Salsa
½ lime
¼ red onion, finely diced
1 punnet cherry tomatoes, finely chopped
Methods
Preheat oven to 180°C. Line a baking tray with baking paper.
Heat oil in a frying pan over medium heat. Add onion and garlic and cook until translucent. Add beef mince, chilli powder, cumin and paprika and cook for 4 mins, breaking it up as you go. Add black beans, Worcestershire sauce, tomato paste and 2 tbsp of water. Cook for a further 2 minutes.
Place chips on lined baking tray and distribute evenly. Add beef and bean mixture over the top evenly. Sprinkle with cheese and bake in the oven for 10 minutes, or until the cheese is melted.
While it's baking, make guacamole and salsa.
Serve nachos with sides and enjoy!