Apple & Apricot Granola Bars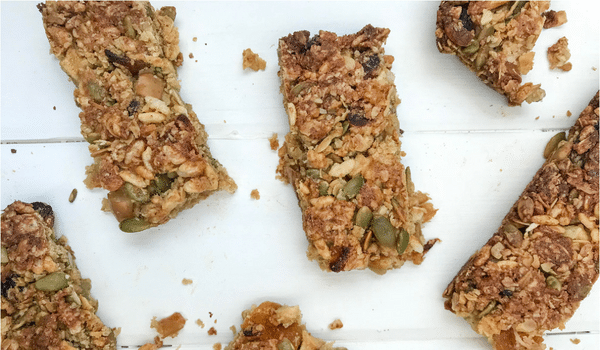 Serves: 12 -15 | Prep time: 15 minutes | Cook time: 40 minutes
Ingredients
1 cup Sunsol oats
1 cup puffed rice
1/3 wholemeal self raising flour
1 tsp cinnamon, ground
1/4 cup desiccated coconut
1 cup dried apricots, finely chopped
1 apple, finely diced
1/4 cup pepita seeds
1 tsp vanilla extract
1/4 cup Extra Virgin Olive Oil
3/4 cup rice malt syrup
Methods
Preheat oven to 180º Celsius. Line slice dish with baking paper.
Combine oats, puffed rice, flour, cinnamon, coconut, vanilla extract, dried apricots, diced apple, pepita seeds, vanilla extract and mix.
In a small saucepan on a low heat, melt the rice malt syrup and add the olive oil once melted to mix. Then add to the puffed rice mixture and stir until well combined. (Note: add additional rice malt syrup as required).
Spoon mixture into tray and press mixture into tray to even the surface.
Bake for 30 – 40 minutes, or until golden. Let cool before slicing.
Cut into bars and enjoy!