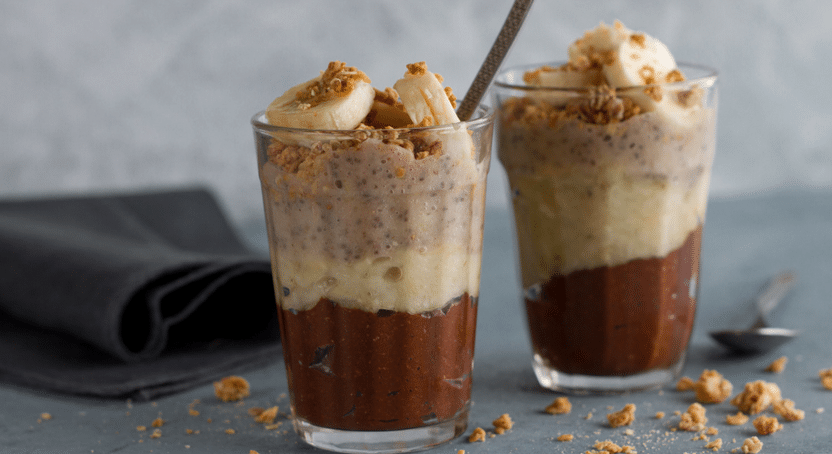 Easter is coming up, which for parents means school is out and kids are at home to entertain…and feed! With all those chocolate eggs, soft-centred choc bunnies and mouth-watering hot cross buns at your local supermarket, it can be easy to forget that Easter for the family isn't all about the sugar!
Not to worry, here are our top 4 kids-friendly, nutritious Easter recipes for these holidays!
Chocolate Banana Mousse
This is a simple, nutritious and delectable recipe that is bound to be a family favourite! The best bit – you only need 3 ingredients! Not only does this recipe skip all the added sugars you would find in commercial chocolates, but avocado also allows you to sneak in a serve of veggies in the form of a dessert. Both banana and avocado are packed with potassium, which boosts heart, muscle and nerve health, and fibre for a healthy gut.
Makes: 2-3 serves
Ingredients:
2 ripe bananas
½ avocado
2 heaped tablespoons cacao powder
Toppings: berries, shredded coconut, nuts
Method:
Place all the ingredients into a blender and puree until smooth or desired consistency. (This is a perfect chance to involve your child in preparing the food – let them mash the banana in a bowl and scoop into the blender.)
Pour into serving bowls and refrigerate for at least an hour.
Decorate mousse with your child with their favourite toppings, such as berries, fresh banana or shredded coconut.
Chocco Bites
With minimal prep time and an all-age favourite, this is sure to be a household winner! These fun-sized bites boast antioxidants from the dark chocolate, and is naturally sweetened by fruits! Yummy!
Makes: 1 tray of bites
Ingredients:
1 x block Dark chocolate (choose varieties with 70% cocoa or higher)
Ice cube trays
Fresh or frozen fruits, diced (e.g. pomegranate, blueberries, raspberries, banana, mango)
Method:
Place chocolate in a heatproof bowl and melt chocolate in microwave (use a microwave-safe bowl) or over a pot of simmering water (do not let base of bowl touch the water).
Pour half of the chocolate into prepared ice cube trays.
Top with fruits and cover with remaining chocolate. Freeze trays to set. Leave trays out at room temperature to serve as treats to your kids as well as to guests!
Chocolate Fudge Balls
Unlike many other bliss ball recipes this one is a real crowd-pleaser – it's nut-free, gluten-free and dairy-free, which means all your kids and all their friends can enjoy them without having to worry about allergies. This is also a fun and simple recipe which you can get the children involved in – call them over for step 3 and make it into a competition – who can roll the most balls?
Makes: 12 bliss balls
Ingredients:
1 ½ cups pitted dates
1 tablespoon + 2 teaspoons cacao powder
Pinch of salt
Desiccated coconut to cove
Optional: tablespoon of peanut butter or some crushed almonds (warning: contains nuts)
Method:
Combine the dates, cacoa powder and salt in a food processor and blend until smooth.
Scoop mixture into a bowl and refrigerate for about 30 minutes or until the dough is sticky enough to form balls.
Roll tablespoons the mixture into balls and roll them in desiccated coconut. Store in the fridge or in the freezer to firm.
The Infamous Fruit Kebab
You know what we're talking about! These fruit skewers pack a mean vitamin-punch and are a colourful assembly to tickle your child's appetite and pull them away from the lure of chocolates. They'll love to help you make them too ?
Makes: 9 kebabs
Ingredients:
Punnet Strawberries
Punnet raspberries
2 mandarins
1 mango, diced
1/2 pineapple
2 kiwifruit, diced (swap with Honeydew melon if kids are allergic to kiwifruit)
Bunch green grapes
Bunch red grapes
Punnet blueberries
Method:
Step 1. Take 9 wooden skewers and thread one of each fruit onto each skewer (arrange the fruits in order of their colours: strawberries, raspberries, mandarin, mango, pineapple, kiwi, grapes and finish off with 2 blueberries). Arrange the fruits in a rainbow shape and voila! You've got your rainbow skewers!
Step 2. You can serve it with some yoghurt topping to make it extra filling. 
Some final ideas:
Try our Sliced Apple treats for another healthy go-to snack that you can keep in the fridge.
Real (non chocolate) eggs are also associated with the Easter season, so why not choose to move away from the chocolate varieties and make other egg recipes such as scrambled eggs or fruity-faced pancakes? Decorate the pancakes with grapes or blueberries for eyes, sliced bananas for ears and yoghurt or honey for a smile and you've got a bunny! Not to mention a great Sunday breakfast.
Host a TREASURE hunt instead of an egg hunt. Leave a trail of notes and clues that lead to a prize at the end (that isn't edible!). Remind them how they can have plenty of fun without the sugar hits.
Finally, it is important to remember that children are also influenced by the people around them, including you. Walk the talk and work on adopting healthier approaches to celebrating Easter and combat the trap of associating Easter = chocolate and work together as a family to build good eating habits from a young age.
We hope that these tips show that you don't have to avoid the Easter treats altogether, but rather use your positive power to influence what they eat, even on Easter!
Happy Easter!
—
Check out some of our other blog posts here.
—
This blog post was written by Nema Hayba and edited by Michelle Hsu, who are interns at The Biting Truth and are currently studying their Masters in Nutrition and Dietetics.