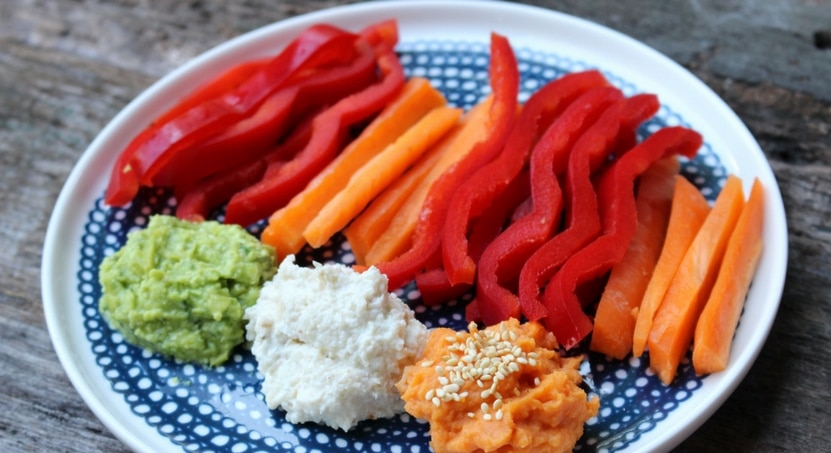 Nut allergies are increasingly common amongst kids, with around 3% of infants having an allergy to peanuts. Some children outgrow their allergies, but others carry them throughout their school life and into adulthood. If they are exposed to nuts, these kids can experience some pretty scary symptoms like breathing difficulties and swollen tongues and throats. As a result, more and more schools are asking parents to send nut-free snacks in lunchboxes to school. With so many lunchbox options available in supermarkets we understand how overwhelming it can be!
When choosing a healthy snack, try to keep things simple – fresh fruit and vegetables are a good start, as well as low-fat dairy like natural yoghurt. If opting for something that's packaged, we've complied a list 10 healthy nut-free snacks that your kids will love!
1. Air-popped popcorn



Air popped popcorn is a delicious, moreish snack that contains far less energy and fat than it's counterparts that are cooked in oil. Try Cobbs, Sunbites, Macro or Cool brands.
2. Yoghurt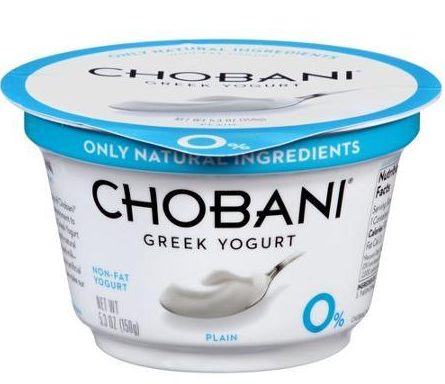 Calcium is so important to keep those young bones healthy and strong! You can't go wrong with choosing a reduced fat option like Chobani.
3. Low fat cheese & crackers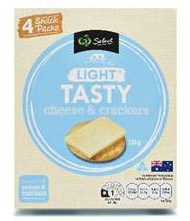 Another one for healthy bones! Cheese is a great source of calcium, but remember that some varieties contain too much saturated fat and sodium. Woolworths Select Light and Tasty Cheese on a few crackers will hit the spot for morning tea!
4. Rice cakes

 

A favourite here at The Biting Truth HQ! Adding toppings like avocado and tomato will help to bump up your child's veggie intake for the day, and a lean protein source like tuna will help to keep them full between lunch and dinner.
5. Tinned fruit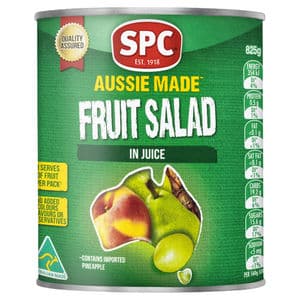 Tinned fruit is an easy and convenient way to include fruit in your child's lunchbox and is just as healthy as their fresh counterparts, as long as it is in natural juices and not sugar-laden syrup.
6. Freedom 

muesli

bars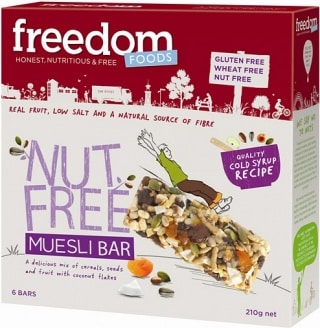 Muesli bars are a hotly contested topic for healthy snacks, but if you choose a bar that is made with wholegrains, has no artificial colours or flavours and is not choc-coated – you are on the right track! For a nut-free option, try Freedom Food's Crunchola Chewy Apricot, Coconut and Chia Bars or their Ancient Grains Museli Bar.
7. Baked beans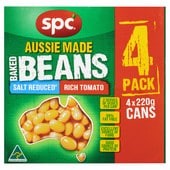 For a quick & easy fibre filled option, a small tin of SPC Reduced Salt Baked Beans will do the trick or try ourrecipe for a homemade alternative.
8. Rice, beans and tuna tub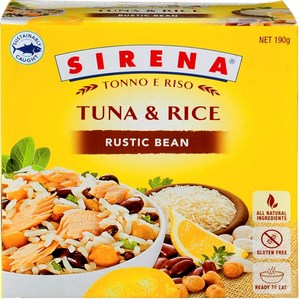 Another option with a protein punch to keep your kids feeling fuller for longer, with lots of fibre for a happy tummy from the beans and rice. Try John West or Sirena.
9. Barley+ Muesli Bars



The Barley+ muesli bar is one of our all time favs! It's loaded with fibre, is low in sugar AND tastes great!
10. The Happy Snack Company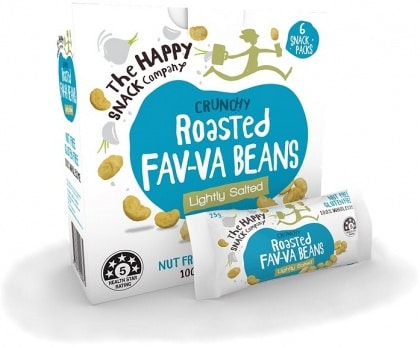 For a satisfying savoury snack with none of the nasties, try The Happy Snack Company's Roasted Chick Peas, Roasted Fav-va Beans or Kids Roasted Flavoured Fav-va Beans.
---
* Please note this article was not sponsored.